To begin with, we have created feeding schedules for your baby that show you exactly which foods your little one can eat and from what age. You can also find out which foods contain which minerals and vitamins, and how much of each your baby needs.
Your baby's nutritional needs
Whether your baby is 4, 5, 6, 7, 9 or 11 months, every baby has different nutritional needs. So pay close attention to your baby's cues to determine his or her needs.
During the first year of your child's life, breastfeeding or milk formula is an important basis. Gradually during the year, you will reduce the amount of milk and replace it with snacks. So, in the beginning, snacks are mainly used to get used to tastes, learn how to eat, and get the body started on digesting foods other than milk. That's a lot! That's why it takes time and is done gradually. You may have noticed that a change in your diet affects your body and how you feel. For example, if you're on holiday and eat differently than usual. Your intestines may start to ache, or you may feel hungry at odd hours.
Nutrition for the microbiome
During the first three years of a person's life, the microbiome is in full development. The microbiome used to be called the intestinal flora. Since it has nothing to do with plants (flora), it has been renamed the microbiome. It comprises all micro-organisms in the colon, such as bacteria, fungi and yeasts. You and your microbiome work together and keep each other alive. Your food contains fibres which you cannot digest yourself. These fibres are food for the microbiome. They digest the fibres and excrete absorbable substances. These substances then enter our bodies and provide health benefits. The microbiome even influences your hormonal balance and, consequently, how you feel. Your intestines are even called your second brain because they are in close contact with your brain and have a lot of influence on it. So it is important that the microbiome is able to develop properly. And you do that through a healthy diet.
"Did you know that it takes up to 12 taste tests before you start to like something? So hang in there if your little one doesn't immediately swallow your freshly made snack with a big smile."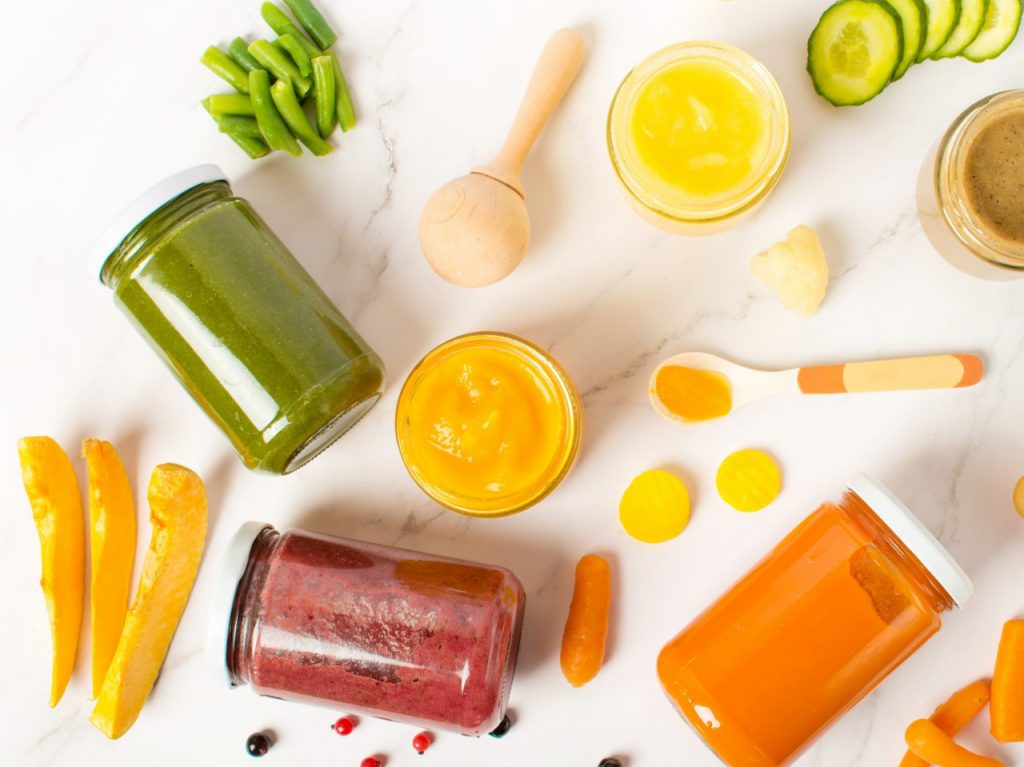 Your baby's first snacks
It's important to start with vegetable snacks consisting of one vegetable. You can give these several days in a row so that your baby gets used to this simple taste. Did you know that it takes up to 12 trials before you start to like something? So hang in there if your little one doesn't immediately gobble up your freshly made snack with a big smile.
Fruit snacks
Fruit snacks will go down better anyway, as fruit contains sugars and makes the snack sweet. People naturally love sweetness, because it is a sign that it contains a lot of energy. That used to be handy in times of scarcity, but now it's not necessary anymore. So don't give too much of it, and make sure your little one gets used to vegetables first before he gets stuck on fruit
Then you can start to vary. Mix two vegetables together, for example. When your little one is a bit older, you can give them snacks with mashed pasta, rice or pieces of meat or fish if you like. It's also a good idea to vary grains, like quinoa, amaranth or millet.
Eating what everyone else eats (without salt!)
From the age of 12 months, a child can eat along with your regular dinner. This means that you can give them almost anything. If you're cooking for the rest of the family, you can keep unsalted ingredients separate and give your child a baby version of your dish. Spices are also allowed, just not too spicy ones!
Try to give your little one as many freshly cooked meals as possible. These often contain more vitamins, minerals and other nutrients than ready-made meals that will keep for years in a jar outside the fridge. If you still want to have something in reserve, there are some excellent baby food brands that offer frozen fresh meals.