As a child, you must learn to digest everything that comes your way during the first few years. Digesting food is definitely a part of that. Discovering all the good things the world has to offer is a colourful journey that starts right after birth. Because your baby's first food is actually when feeding from the breast or bottle.
Your baby's true first food: breastfeeding or bottle-feeding
In the first six months after birth, breastfeeding is the best choice. This is also worthwhile even if it's only for a short time, for example, because you have to go back to work and have problems with pumping. Breastfeeding has so many advantages that every bit of milk your child receives is worth it. No other milk formula can match the first milk after birth (colostrum) due to the number of antibodies and vitamins it contains.
Is breastfeeding not possible? Fortunately, there are various types of milk formula you can choose from. Just like breast milk, these are specially formulated so that your little one doesn't need any supplementary feeding until it is six months old. If possible, choose organic milk formula from manufacturers such as Biobim, HIPP or Holle. If your baby has a (suspected) allergy, ask the health clinic which brand is most suitable. In case of an allergy to cow's milk, you could opt for the Nannycare formula based on organic goat's milk.
Your baby's first snack at 4 months or 6 months old?
Much has been written and said about when it's best to start feeding your baby its first solid food. The WHO recommends exclusively breastfeeding (if possible, and otherwise giving milk formula) for the first six months and starting with the first snack after that. The Nutrition Centre advises supplementary feeding when your baby is between 4 and 6 months old. But both parties agree that feeding your baby its first snack at 3 months isn't a good idea. The intestines haven't developed sufficiently yet, and your baby only needs breast milk or formula for the first six months to grow properly. The first baby snacks are therefore so-called 'practice snacks'.
As a parent, you are the one who can determine the best time for your child to start with practice snacks. It's a good idea to pay attention to possible signals from your baby. If you can't put anything in your mouth without your mini you trying to take your spoon whilst making cute little chewing noises, it could be that he's ready for his first taste. If you're unsure, ask your health clinic.
Baby food: porridge, avocado or perhaps breadsticks?
Providing nutritious first snacks appropriate for your little one's age will ensure that their digestive tract develops properly. Only give your baby fruit and vegetables between the ages of 4 and 6 months. After that, you can carefully add cereal products, such as organic rice flakes. So let those breadsticks be for the time being.
At 6 months, your little one should be ready to learn how to eat pureed food with a spoon. From then on, he will really need it as a supplement to breast milk or milk formula. From the age of 7 months, crusted bread is a favourite to munch on. This way, your child will get used to more solid shapes. At around 8 months, you can mash instead of pureeing the food. And around 9 months, your child is generally ready to eat a real sandwich for the first time.
In order to develop oral motor skills and the teeth, it is important to gradually give larger pieces. By the way, our unique feeding schedules tell you exactly what your child needs at each age stage. Tip: print them out and hang them on the fridge. Handy!
"To help your baby get used to new tastes, it's best to give them the same fruit and vegetables for a few days in a row."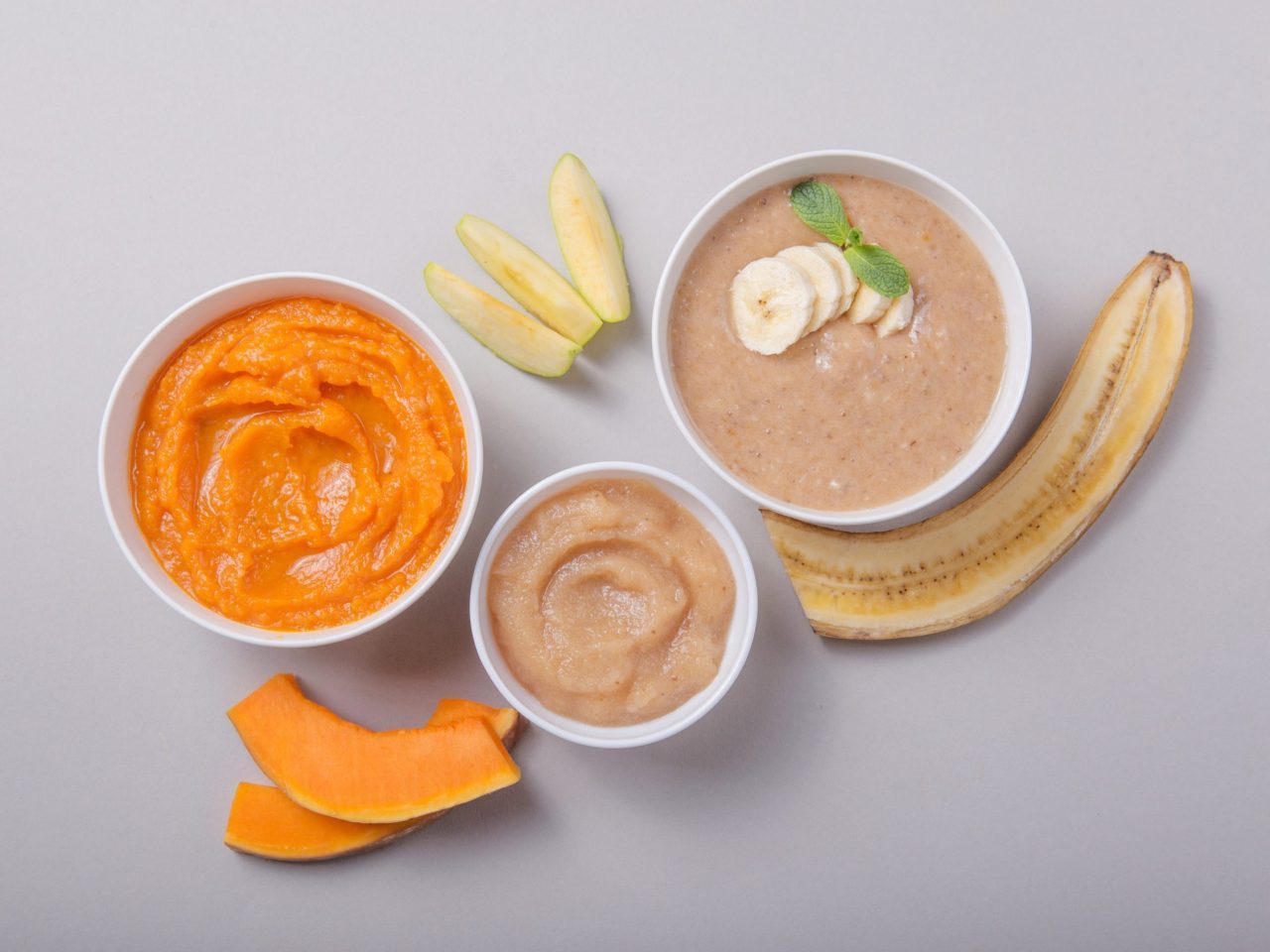 How do you get started with your baby's first snacks?
To help your baby get used to new flavours, it's best to offer the same type of fruit and veggies for a couple of days in a row. Preferably go for organic field-grown fruits and veggies. Don't give raw vegetables yet, but steam or boil them instead until tender and puree with some of the cooking liquid. Allow to cool to body temperature. You can offer fruit without cooking it. Do you want to know exactly what the ideal first snacks are? Check out our handy food introduction schedule.
The Rapley or Baby-Led Weaning method
A modern take on the first baby snacks can be found in the Rapley or Baby-Led Weaning methods. They recommend that you let your child eat with their hands as much as possible. It's up to you to decide whether this is the best choice for your child. Some children will cram because of this way of eating, which causes them to choke more rapidly. If you pick one of these methods, make sure that your baby can sit up straight and that you always stay with it. Also pay attention to where the food originally comes from. You can do this, for example, by offering a piece of soft-boiled or steamed carrot with a carrot snack.
Fresh, vital and above all salt-free baby snacks
You should know this: salt doesn't belong in infant food. So initially, don't let your child eat the same food like the rest of the family. And, unnatural substances like added colourings and flavourings really don't belong in the first snacks. These kinds of additives can disrupt the food digestion process, which can cause various problems, like a food hypersensitivity. So, always go for fresh fruit and veggies. If you want something easier for a change, pick a ready-made alternative or snack without any unnecessary additions.
It's also important to check out the quality of food. In today's society we are mainly concerned with carbohydrates, calories, proteins and fats. We almost forget that our food is originally alive! High-quality nutrition therefore not only depends on an optimal composition, but on vitality as well. The extent to which the food on your plate is filled with vital life energy really depends on the growth and development that the products have gone through.
Crops and animals that have grown up in harmony with nature – so without any growth-accelerating fertilisers, harmful pesticides or antibiotics – are much better suited to the vulnerable phase of your baby and contribute optimally to its vitality. The freezer and microwave also affect the vitality of a product. So try to avoid these as much as possible.
Fresh organic or biodynamic products are therefore absolutely preferred. If organic food doesn't (always) fit within your budget, take a look at the most and least sprayed foods and try to make a conscious choice based on whatever works for your family.