There is a wide variety of sandwich toppings for sale in the supermarket. The Dutch are true bread eaters and prefer to be spoiled with delicious cheeses, chocolate sprinkles and humus. However, it's difficult to find something good for your little one because not everything contributes to their health or because it poses a possible risk.
Which bread do you choose?
It all starts with the type of bread you choose. Bread may seem like a simple product, and all bread may look alike, but there are big differences. The main difference lies in the degree of processing of the grain. The less processing, the more good substances it contains.
Wholemeal flour vs white flour
Wholemeal flour contains much more fibres, healthy fats, vitamins and minerals than white flour. In fact, with white flour, part of the grain is not even used. Both the germ – the start of a new plant, therefore full of good substances – and the bran – the husk, full of fibres – are removed from the flour, and only a lot of starch and gluten remains.
Starch in itself is a quick and easy carbohydrate for your body to digest. White bread quickly turns into sugar molecules and gives you a short-lived high-energy spike. This is only useful if you can use that energy boost right away, for example, during exercise or an enthusiastic cleaning session. If you plan to relax or take an afternoon nap, the excess energy will be stored as fat.
Check the ingredients
New legislation has come into force requiring that bread names are not misleading. For example, a bread with 20% wholemeal flour and 80% white flour is no longer called wholemeal bread. Also, a multigrain bread no longer contains 95% wheat, 3% spelt and 2% rye. Isn't that great!
It's always a good idea to check the ingredients so that you understand exactly what you are buying. That way, you can see exactly which types of grain are used, whether any unnecessary additives have been used and how highly processed the flours are. My tips: opt for organic bread, with wholemeal flours and without flour. Vary the types of grains used to offer the full range of nutrients and to allow your child to get used to different structures.
Make your own sandwich toppings and vary
It's good to vary and make your own fresh sandwich toppings from time to time. An avocado, for instance, can be delicious. Or what about peanut butter with pieces of apple, banana and a little cocoa? Hummus is also easy to make yourself, and the good thing is that you can leave the salt out of the recipe, making it babyproof and mega nutritious. All you need is olive oil, a tin of chickpeas and any seasoning you like. Grind it in your food processor until you have delicious hummus. You can also add cooked vegetables for even more vitamins.
Avoid toppings that are filling but not nourishing, such as chocolate or aniseed sprinkles and chocolate spreads made from granulated sugar and palm fat. Choose nutritious alternatives such as nut spreads, pureed fruit and vegetable spreads. And you can also easily make these yourself! Did you know, for example, that you can grind a handful of nuts or peanuts into a paste in your food processor? Ready in no time and also super tasty for you.
"Always pay attention to the list of ingredients and the nutritional value label when you buy sandwich toppings from the supermarket because then you can judge whether it really contributes to the healthy growth of your little one."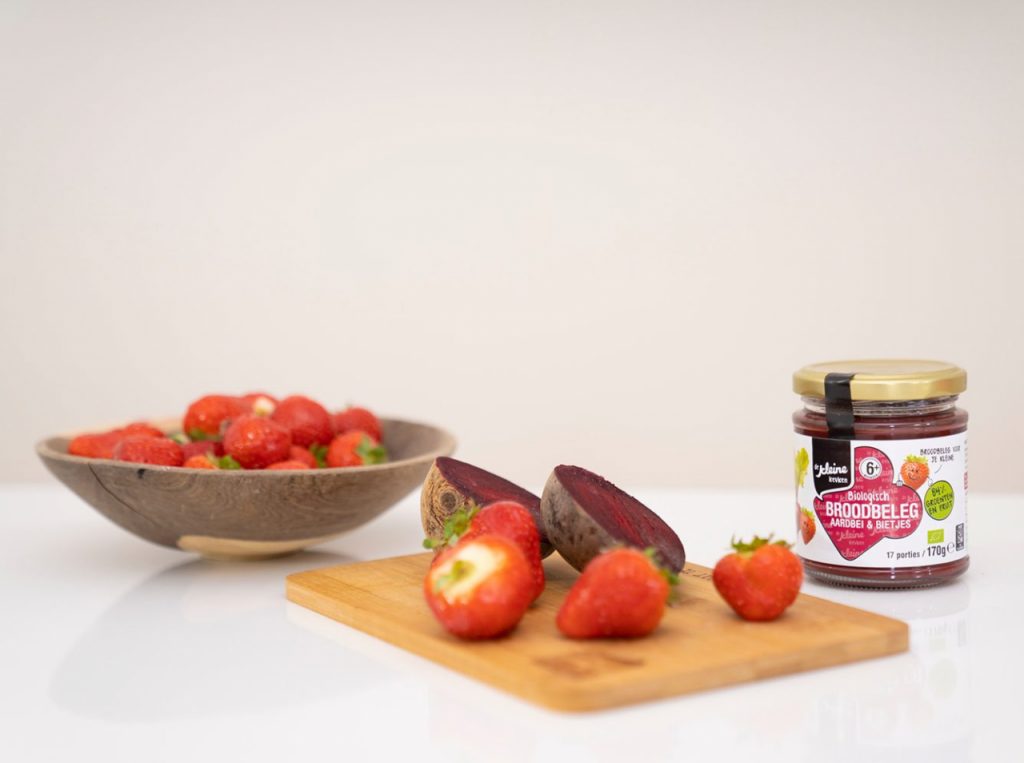 Ready-made toppings: what to pay attention to?
Always pay attention to the ingredients and nutrition labelling when you buy sandwich toppings at a supermarket, as this will help you to judge whether it really contributes to the healthy growth of your little one.
Step 1: the ingredients
Step 1 is to read the list of ingredients, as this will give you a good idea of how beneficial and nutritious the product is for your little one. Do you recognise the ingredients? Are they highly processed? Do they contain unnecessary additives such as salt, sweeteners or flavourings?
Step 2: the nutrition labelling
Step 2 is to look at the nutrition labelling. This shows you in quantities how nutritious the product is. This is useful when comparing different products. Pay attention to the amount of fibre (yay!), sugars and salt, for example.
Some spreads are not good for young children, like liverwurst (because of its high vitamin A content) and cheese (because of its salt content). If you want to know more about this, check out our nutrition chart. If you are not sure, just ask us. We'll be happy to help.
All the yummy tips in a row:
Mashed banana with a little cinnamon or cocoa;
Hummus made from chickpeas, olive oil and herbs;
Peanut butter (without sugar, salt or palm fat) with a piece of apple;
Nut paste (bought or homemade);
Boiled egg with curry powder;
Cream cheese with sliced olives;
Hummus with vegetables (boiled beetroot or spinach through the blender).