Let's start by saying that biscuits are not an essential nutrient for your baby or child. They don't have to be part of their diet. But every now and then you might be looking for a nice biscuit to give your child a treat. Isn't it wonderful that you can give your child a biscuit that is good for him or her? That the biscuit not only fills but also nourishes? We gladly give you some tips.
Is the baby biscuit made with wholemeal flour?
A biscuit consists of flour, sugar, oil or fat and raising agents. Raising agents (for instance baking powder) ensure the light and brittle structure of a biscuit. There's only a little bit of raising agent in a biscuit. Most biscuits consist of flour. That's why it's important that the biscuit you have in your hands is made of nourishing flour instead of highly processed and empty flour. Therefore, choose wholemeal flour instead of white flour. You can compare it to white bread versus wholemeal bread. Wholemeal bread contains more fibre, minerals, good fats and other nutrients than white bread. You can buy biscuits made with 100% wholemeal flour.
Do baby biscuits contain sugar?
Biscuits always contain some form of sugar. This is because sugar has important functions, such as taste, crunchiness, shelf life and colour. That's why it cannot simply be omitted or replaced.
Sugar is a source of energy and is quickly absorbed into the blood, where it causes a sugar spike. Your body wants to reduce this sugar peak and does so by producing insulin. Insulin helps transport the sugar's energy to your cells. So your body gets an energy boost. If your body cannot get rid of this energy properly, for instance, because you're watching television on the couch, then your body converts the available energy into fat. The tricky thing is that when your body needs energy again, fat is not the first choice as a source of energy.
Sugars encased in fibre
Fortunately, we can help prevent the sugar spike in the blood from becoming so high that it results in a surplus of energy. This support comes from fibre. If the sugars are packed in complex substances – such as fibre – from the wholemeal flour. Your stomach is first busy digesting or breaking apart the complex substances. As a result, it takes longer for them to be released into the body and the sugar peak in the blood is lower.
Did you know that fibres are so complex that your body cannot even break them down? The fibres arrive whole in the large intestine. That's where our microbiome is present. This is a combination of enormous quantities of bacteria, fungi and yeasts. They can digest part of the fibre and turn it into smaller substances which we can then absorb. Clever cooperation! The remaining fibres that cannot be digested help to soften the stool by binding water. That's why, in case of diarrhea or constipation, it's always advisable to gradually eat more fibre and to drink enough water.
Refined or unrefined sugar?
A biscuit can be sweetened with highly processed granulated sugar, but brands can also opt for an unprocessed, unrefined variant. An example of this is coconut blossom sugar. Lab research shows that coconut blossom sugar is rich in a number of essential minerals. The fact that it's unprocessed can also be seen in the colour, smell and taste of unrefined sugars.
"Sweeteners are therefore like a wolf in sheep's clothing. My advice is to choose the natural option: as little processed sugar as possible from a natural source."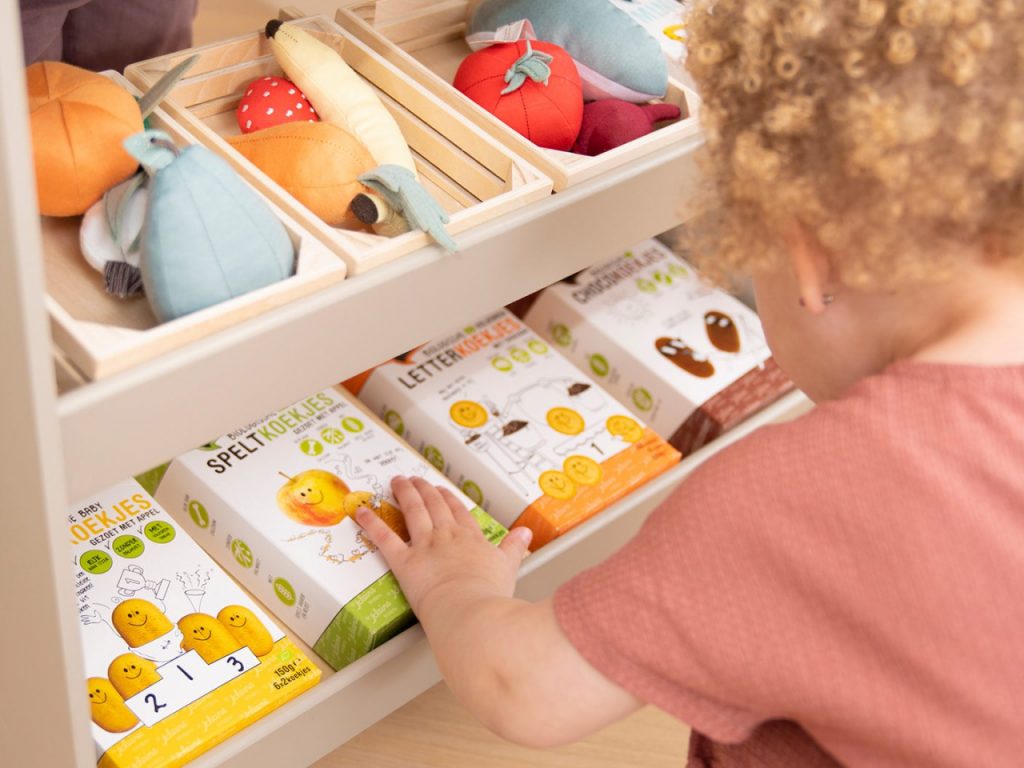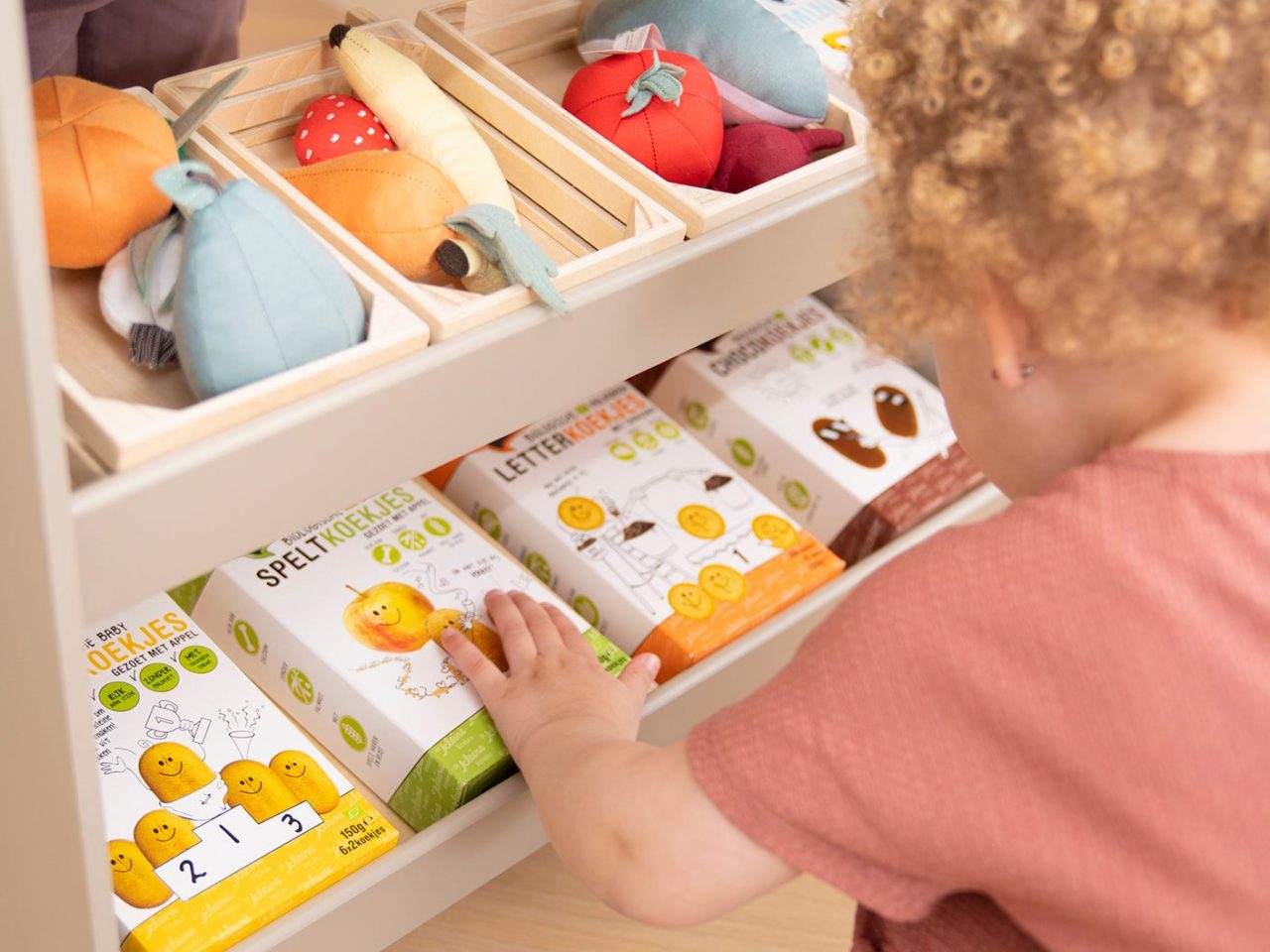 Sweeteners: yes or no?
Some biscuits and other products contain very little sugar while still being sweet. In such cases, the manufacturer often uses sweeteners. Sweeteners do not fall under the category of sugars because their molecular structure is different. This seems like a good solution, but what happens to sweeteners in your body? Some sweeteners provide almost no calories and, therefore, no energy for your body. That' is good for your figure, but how does that actually work? As with fibre, these sweeteners cannot be broken down by our bodies. They arrive in the large intestine in their entirety and end up in our microbiome.
Sweeteners are often synthetic (artificially made) and are a new kind of food for bacteria. They make completely different tiny substances from sweeteners than from fibre, and these new tiny substances can be very unnatural for your colon or even for your whole body. They can cause your intestines to become irritated. They can even cause the formation of other hormones, which can then affect your whole condition and how you feel. So sweeteners are like a wolf in sheep's clothing. My advice is to choose the natural option: as little processed sugar as possible from a natural source.
A summary:
Choose wholemeal biscuits
Go for unrefined sugars (like apple juice or virgin sugar)
Avoid palm fat
Avoid sweeteners like sorbitol, Acesulfame K
And of course; a baby biscuit is nice, but only once in a while!